What is FUNCTIONAL RESTORATION?
Functional Restoration Program (FRP) is a powerful multi-disciplinary treatment consistent with the Chronic Pain Medical Treatment Guidelines.
The goal of Functional Restoration is to improve the quality of life of Chronic Pain patients by treating the whole person to help them regain their ability to function within their lives, relationships, and work.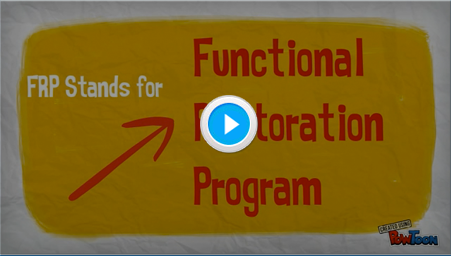 Why Choose NCFRP?
It's about finding the right program with the best outcomes

Individualized Care
Pain Management Specialists, Psychotherapists, Physical Therapists and Patient Care Coordinators are available throughout the program providing individualized attention to achieve the best outcomes.

Evidence-Based Treatment
Our experienced chronic pain professionals utilizes evidence-based medicine merged with integrative therapies such as yoga, meditation, movement therapy, nutrition and more to provide a vast array of tools for recovery.

Outcome Driven
NCFRP's remarkable outcomes and reputation is a result of more than
13 years of experience in providing exceptional care to chronic pain patients through Functional Restoration.
Read more about our Outcomes Studies.

Team Approach
NCFRP's success is based on a team oriented approach which involves weekly multi-disciplinary team, patient care, and administrative meetings along with comprehensive weekly testings and progress reports to all involved parties.

Administrative Support
Our expansive and dedicated authorizations support teams will handle the entire authorizations process so our providers can focus on what they do best: Provide excellent quality care to our patients.

Spanish Program
Aside from our unique all-Spanish Program, a variety of other languages can be accommodated. Speak with one of our friendly Patient Care Coordinators today to learn more about language accommodations!